This shop was compensated by Collective Bias, Inc. and its advertiser. #GoldfishGameTime
#CollectiveBias All opinions are mine alone.
This winter has been a bit of a challenge. It's either snowing, raining, or just plain gloomy outside.
At the end of last week, we needed a serious pick-me-up activity to let loose and have fun. I'd just
picked up our stock of Pepperidge Farm® Goldfish® crackers, and then I had a light bulb idea.
Since the 30 oz. cartons are on rollback at Walmart at the price of $6.46 (in store only), I picked up
the Pepperidge Farm® Goldfish® crackers Whole Grain and the Pepperidge Farm® Goldfish®
crackers Cheddar.
I thought back to December, when a Christmas party we attended had Minute to Win It games. They
were so fun! I love how the setup is minimal, and you basically have everything you need at your
house. We literally always have Goldfish crackers in the house, because they are a well-loved snack.
There's just nothing better than taking the time to have a little fun as a family.
We've made it super easy for you to play along, too! Just click on the picture below and click to shop!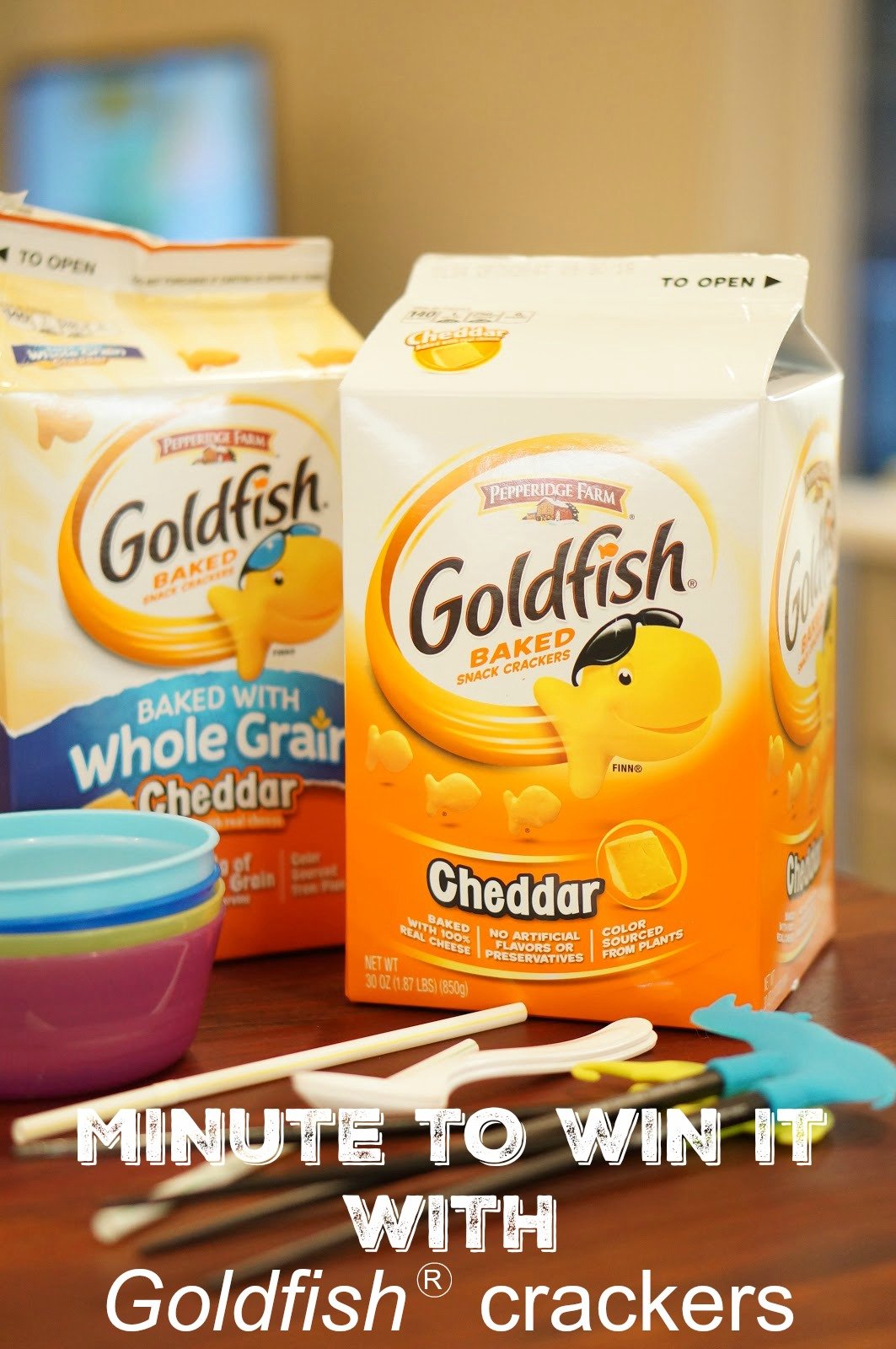 If you would like to play these same Minute to Win It games, here is what you need:
Bowls, two per person playing
Straws, one per person playing
Plastic spoons, one per person playing
Chopsticks, one set per person playing (the chopstick helpers were also useful, but not required)
BASIC RULES
Each game starts with one empty bowl and one bowl filled with Goldfish crackers. The point is
to get as many Goldfish crackers that you can into the empty bowl, using the means designated
for that particular game.
Once the players are ready, set the timer for 1 minute. The timer starts, and the players race to
see how many Goldfish crackers they can get into the empty bowl.
So, those are the basics of each game. However, we made three different versions, and they
each were difficult in their own way. Keep scrolling to see each individual game.
SCOOP IT UP
Using a plastic spoon in your mouth, scoop as many Goldfish crackers into the empty bowl as you
can. This takes more coordination than you would think! As you can see, we had a blast. We
couldn't stop laughing, especially, when one of the bowls spilled.
I think it's clear which bowl was the winning bowl!
SUCK IT UP
Using the straws, move as many Goldfish crackers as you can to the empty bowl. This one takes
some concentration, because you have to suck in air to hold the Goldfish cracker to the straw, then
released the air when you drop it into the empty bowl. This was also a load of fun!
The yellow bowl won this one!
MOVE IT OVER
This last game was pretty tricky. Using the chopsticks, you move as many Goldfish crackers as you
can to the empty bowl. The chopsticks worked best if you hooked them at the tail. That method
seemed to work best. And this was another win for the yellow bowl!
Let me know what you think of the games. You can find more inspiration at the social hub here! I'd
love to hear how much fun you had as well!