Can you believe it's that time again? I didn't do a monthly favorites post in April, since I was taking a blogging break. Even so, this past month has gone by so fast. This month, I focused on my skin care a little more than I usually do. I started using sun screen every day, since we've been sitting on the soccer field every Saturday morning. My makeup look for most of the month was very natural and glowy.
And here they are!
Revlon Colorburst Lipstick in Petal
Sadly, I think the Revlon Colorburst Lipstick line might be discontinued. It's unfortunate, because this has become my go-to lipstick color in the mornings when I'm (literally) rushing out the door. The name of the shade is Petal, and it's a neutral pink that has a very slight shimmer to it. It looks great with everything, and it's one of those shades that give my lips that summer-y glow. Revlon also has a Super Lustrous Lipcolor that is a similar formulation to the Colorburst Lipsticks. The Silver City Pink in that line reminds me of Petal.
LORAC Perfectly Lit Oil-Free Luminizing Powder, $32 for 0.34 ounces
I wasn't joking when I said glowy! I pulled this luminizer out of my bronzer/highlighter/blush drawer to use this month, and I am so glad I did. This is a deluxe sample size, so it easily gets lost under my regular size products. This is a luminizing powder that gives your skin a beautiful, fresh, warm glow. The formulation is lovely, and the consistency of the powder is silky smooth. I've been applying this to my cheek bones, above my eyebrows, down the bridge of my nose (lightly!), and on my cupid's bow. A little goes a long way, and I foresee this sample lasting me a long, long time. When it's gone, I would definitely purchase the full size version.
Benefit Bad Gal Lash Mascara, $19
I've been loving a specific mascara combination this month, and this is one part of the two-part duo. It's super black, volumizing, and doesn't leave my eyelashes stiff. Not much else to say about, except it also doesn't transfer during the day! (a plus when you live in a humid climate) The only downside is the price. There are so many great mascaras at the drugstore, I just can't justify paying $19 again for this one. A good drugstore dupe would be the L'Oreal Voluminous Volume Building Mascara. But, this has been a winner for me this month!
Mary Kay Lash Love Mascara, $15
The other part of my dynamic mascara duo is the Mary Kay Lash Love. I've trying to use up the little mascara samples I have in my drawer, and this one got pulled out first! This mascara is good for definition and volume. Unfortunately, it doesn't lengthen. No matter how gently I apply it, I always have those weird bobbly ends on my lashes that I have to gently removed with my fingers. Not a good look for anyone. Also, the bristles are super pointy and I poked my upper water line once. Cue the tears! Tears + mascara = no bueno. So, other than the non-lengthening issue and the pokey issue, I love this mascara. It gives a voluminous, defined look that I love.
NARS Sheer Glow Foundation in Siberia, $44 for 1 ounce
I bought this foundation a few months back, and I've been saving it for special-ish occasions or for when I want that perfectly-matched foundation. The summer (ish? it's not technically summer yet, right?) heat is getting to me and I've been craving a lighter foundation finish. Now, this foundation is no way sheer or glowy (bit of a misnomer, NARS), so it's not really what I call a "light" foundation. But, I can get away with putting it just on the areas of my face that need coverage. Since it's such a perfect match for my skin color, I don't have to worry about carefully blending it out. The only area I "worry" about is the center of my face (nose and inner parts of my cheeks) and chin. I powder the rest and voila! My base is done. This foundation will definitely be my go-to this summer.
Not Your Mother's Kinky Moves Curl Defining Hair Cream, $5.99 for 4 ounces
I discovered this brand at CVS, but I think you can buy it at a variety of stores (Target and Ulta, definitely). This is a curl-defining hair cream that has grape seed extract and jasmine. I've been combing it through my hair on the days I want it to be a bit wavier. Now, the label says grape seed extract and jasmine, and I have no doubt that those ingredients are actually in the product, but it smells exactly like grape Kool-Aid. The smell doesn't linger throughout the day at all, and I only notice it during application. It helps my hair hold its wave during the way. This will be a repurchase when this tube runs out.
Vasanti BrightenUp! Enzymatic Face Rejuvenator, $34 for 4.23 ounces
This is a sample from my April Birchbox. I've been using it once or twice during the week when my skin needs some exfoliation. It feels and smells really great. You only need a pea-sized amount for your entire face, so this sample is going to last a while! I can see improvement in my skin's texture after using it. I'm still on the fence about whether or not I would purchase a full-size, since it's on the pricier side. But, it's so nice, this might be a special treat when I have birthday money!
Supergoop! Everyday Face & Body Lotion SPF 30, $48 for 18 ounces
Like I said, sunscreen has been an extra addition to my skin care routine in the morning. I had not tried this particular product prior to purchasing it (say that five times fast!), but it has a lot of great reviews online so I took a leap of faith. I bought the smaller size, which was $14, but couldn't find a link for it. In the future, I will purchase this larger size since it's a better deal. I like that this sunscreen has a pleasantly clean scent and does not feel heavy or sticky on my face. I have also been applying to my decollete area. Because let's be honest, sometimes that area gets neglected in the sunscreen arena. When I'm older, I don't need my jumblies* to be giving away my age. So, sunscreen it is!
That's about it for now! I actually had more favorites than this, but it's hard to not get rambly and long winded with these kinds of posts, thus I limited myself. In the future, I'm thinking about doing a Youtube video instead of a post. Thoughts? Anyone want to talk me off the Youtube ledge? Hehe?
What were your favorites this month? Today, I'm linking up with Dancing With Ashley for her monthly favorites link up. Go check out everyone's favorites!!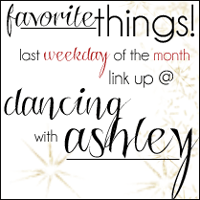 *yeah, i just said that. feel free to unsubscribe. 😛